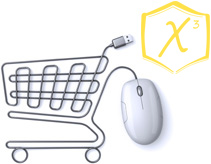 Charge3 is software designed by developers for developers. A couple decades ago, Tri-8 set out to produce an API that we wished we would have had ourselves when handling custom payment processing applications for our clients. We built Charge3 with ease of integration, performance and robustness in mind.
Every solution architect and developer hopes to keep focused on the application solution itself, not on lower-level details such as credit card authorizations. Charge3 enables that very thing. We handle the underlying transactions while you handle the bigger picture: your application. Win.






High Performance
Fast transactions make for happy customers and higher sales. That's why Charge3 doesn't lay off the gas pedal. Credit card transactions authorize in 1.3 seconds, typically, giving near-instant feedback to your website visitors, point-of-sale customers, or backoffice processes. Get the auth, book the sale, done. Fast.
Multi-Threaded
Recurring or batch-oriented business processes in your enterprise may need to run many transactions in a large block. No problem. Slam Charge3 with multiple transactions simultaneously. It's ready. Authorizations are interleaved for high performance and optimized for maximum throughput. Call it once, dump them in, and get all the results in one single return.
Fully Integrated
Charge3 is designed by developers for developers. Tri-8 has been processing electronic payments with Charge3 (formerly OneStep Charge) for over a decade. We designed an API middleware layer specifically with the developer in mind, seeking to give today's enterprise architects and system developers what we wished we would have had "back in the day" for ourselves: clean, fully integrated APIs ready to go. Integrate the payment API right into your existing app code, then focus on your app. Focus is good.
Broad Processor Support
There are lots of processors out there. TSYS, Global Payments, First Data and beyond. Charge3 works with all the biggies and frontending via one of them for your existing merchant account, even if you're on somebody else's platform, is easy. Bring 'em on.
PCI Compliant Vault
Charge3 relieves your enterprise of the heavy burden that comes with storing PCI protected credit card data. Using Charge3 Vault for PCI certified storage outside your application and off your network, you can use saved-card and auto-recurring processes within your application but without ever having to store a card number.
Triple Redundant
Your payment processing subsystem cannot go down. Your customers are buying but is your system up and running? With Charge3, it is, thanks to triple redundancy built into the Charge3 Engine. Multiple independent processing nodes yield high availability across geographic boundaries. The result? When a sale is ready to close and the transaction is locked and loaded, Charge3 is ready to go.
Select a Feature